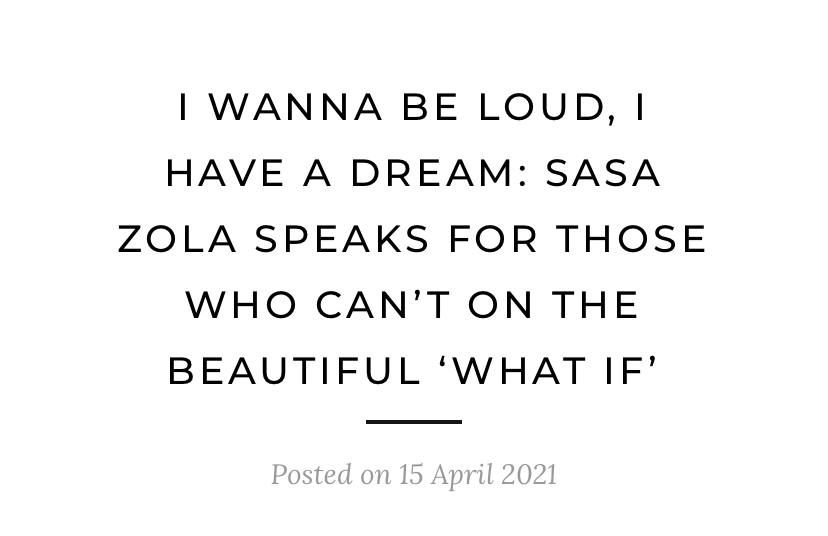 «As she shows the world that the quiet and downtrodden need to have their turn to speak up away from the unnecessary noise of this often harsh world, Sasa Zola is simply exquisite on her absolutely outstanding new single 'What If'. 
Sasa Zola is an incomparable Bristol, UK-based based Italo-Senegalese singer-songwriter, model and ex pro windsurfer. She makes that rare type of music that touches your heart where it was thought to be unreachable before. 
Her caring vocals and self-aware lyrics has you feeling so dreamy, sad and reinvigorated, all somehow at the same time. This is a sublime creative who loves to feel that adrenaline boil in her blood — as she sheds off the doubts from before — to bring us a sensational song with so such care and love, wrapped carefully into a beautiful bow of belief. 
She blinks briefly and looks away from the hate of the world, as she draws all of her new-found belief to help others get through the day that seems so dark and sad. She sings right into your inner consciousness to have you feeling you have just witnessed something so exceptional, that you feel compelled to listen again and again. 
'What If' from the beyond-remarkable Bristol-based multi-talented musician Sasa Zola, is an awe-inspiring track from a supremely talent woman who puts her heart and soul to everything that she does. Showing that true leaders speak up for those that can't, this is a special song that needs to be heard by those who feel that they are helpless right now. 
Hold onto that dream, you are not alone.» - LLEWELYN SCREEN, song reviewer for A&R Factory.
Check the full article here.